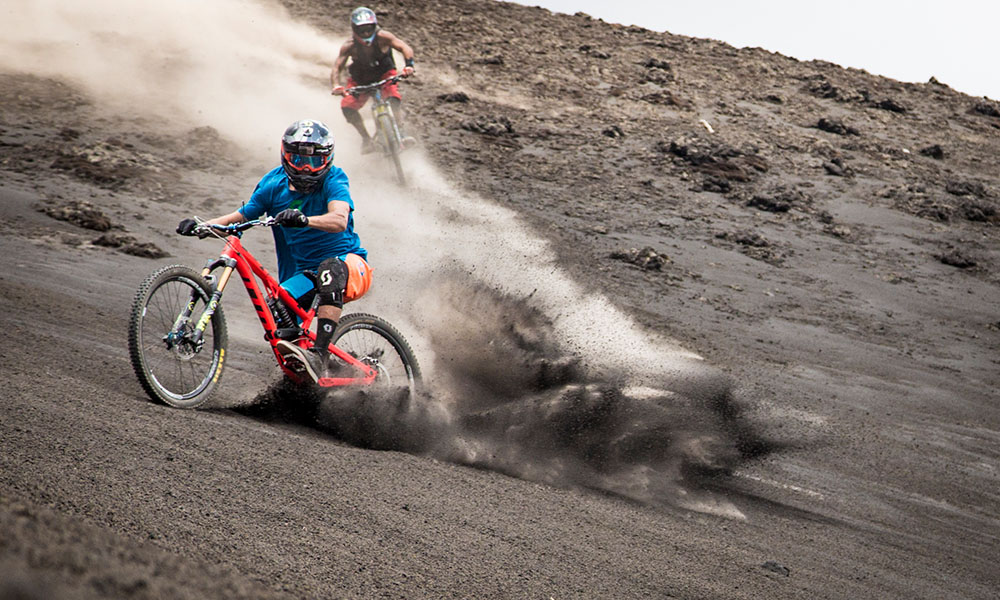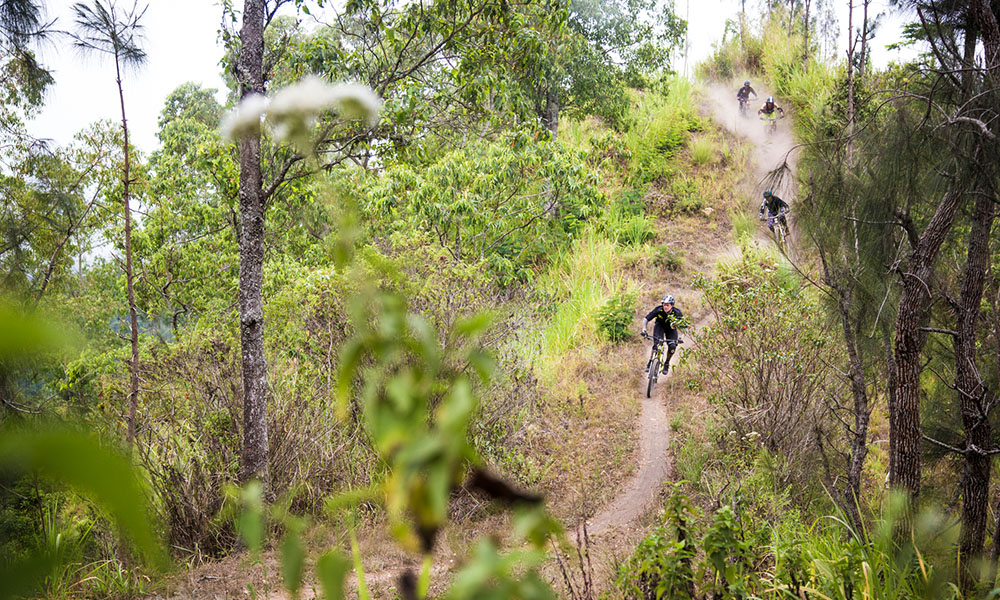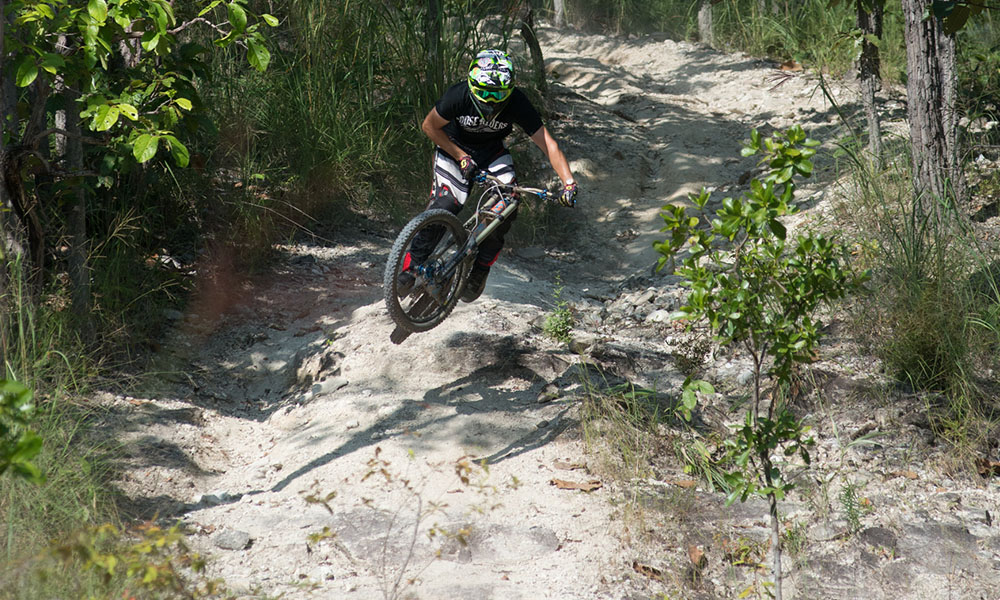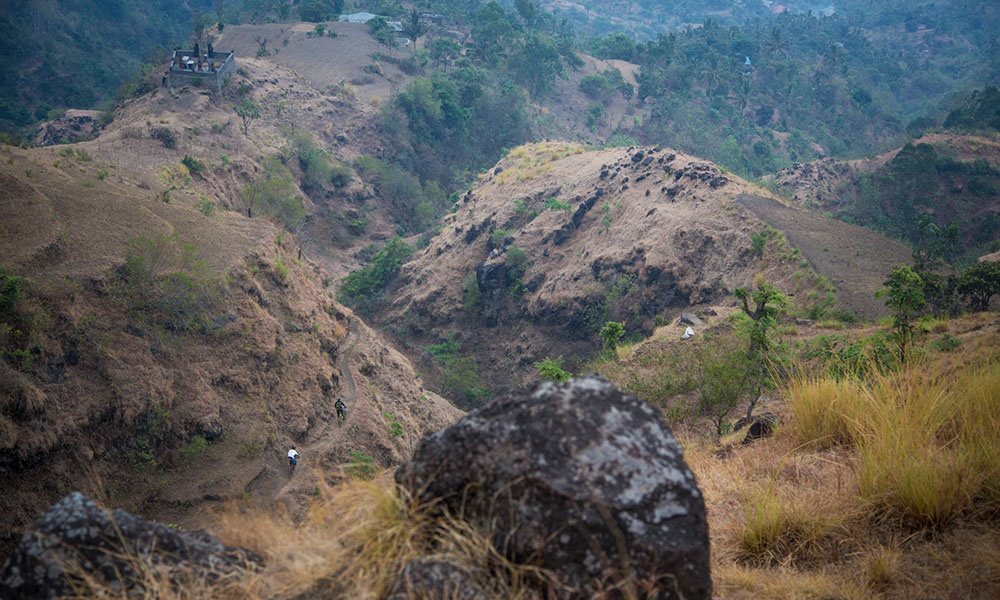 Our Thailand - Indonesia Package is the star in our lineup!

On this trip we will: catch 6 flights, visit 2 countries, pass 1 timezone, cross the equator, see vastly different cultures and ride everything from hot tropical jungle, cool mountaintops, volcano crater rims to man made bikeparks and top is all off with some surfing and chill time on the beach.

Our trip starts in Bangkok, the capital and most populated city in Thailand.

From ancient temples to futuristic modern shopping malls, the sounds and smells of this buzzing metropolis will positively overwhelm you. Enjoy the amazing skyline from a fancy roof top bar, visit Chinatown for some delicious snacks, have an adventurous boat ride along the many canals or party the night away at the infamous Khaosan Road backpacker district. The City Of Angels is full of contrasts with something new and unexpected around every corner.


After a short flight from Bangkok we arrive in Chiang Mai. Thailandís second largest city, located in the mountainous north of the country. In stark contrast with Bangkok, Chiang Mai is a haven of peace and tranquility, this laid-back city is nestled along green forest foothills of the Doi Suthep-Pui mountain range and will be our home for the next 5 days.

The Chiang Mai region arguably offers the best riding in Asia.
From long Enduro epics to World Cup worthy Downhill rock gardens to fast flowy single track, the region hosts a variety of trails for every skill level. Here weíll do the most technical riding of the trip, 5 days can be intense so if you need a brake and donít feel like chilling out by the pool, Chiang Mai has lots to offer. Explore its buddhist temples and cultural sites, try the famous local cuisine, there is something for everyone, from cooking or massage classes, visiting an elephant rehabilitation sanctuary to bungee jumping and zip-lining trough the jungle to sampling the vibrant night life.

After riding Chiang Maiís awesome trails we move on to Bali - Indonesia.
Bali is a tropical paradise Island with stunning beaches, active volcanos and lush jungle forests. Besides the breath taking landscapes, the rich culture of the Island of the Gods is everywhere. Bali has itís own unique Hindu culture and is distinctly different from the rest of Indonesia.

Our Bali partner is The Chillhouse - Baliís go-to bike and surf resort, this is where we stay and shuttle with. The Chillhouse also runs the Loose Riders Bali Chapter and is responsible for The Bali Bikepark, and awesome man-made addition to Bali's natural trails with big senders, fun lines, amazing dirt and fast shuttles make this a must visit spot.

The Chillhouse is situated in Canggu on the South Shore of Bali, a thirty minutes drive to Seminyak to the East and Tanah Lot Temple to the West. There is surf all over and the mountains to ride are just an hour drive away. Canggu is the hippest place to be on Bali at the moment, the influence of the surf scene is ever present, however more hip and old school than cool. Old refurbished motorbikes, stylish surf shops, bars playing alternative tunes, and restaurants serving food that suits all tastes from super healthy veggie dishes to total hangover burgers. Take a break for riding and join a surf course, take yoga class at our resort, or rent a scooter and go explore!

The third destination is Cikole Bikpark on the main Island of Java. After short flight from Bali we get to Bandung, located at 700 meter above the sea level, you will feel the welcoming cool air after arriving from a tropical Island. Bandung is home to the Cikole National Park, surrounded by pine and turpentine tree forests on the face of the volcano of Mt. Thangkuban Parahu. This real hidden gem is one of the most fun riding spots in Asia, the Cikole bike park.

Virtually unknown to the western world, this bike park has lines that can easily compete in flow and fun factor with the worlds top bike parks.
Super fast lines, kickers everywhere, well build endless berms, this place is beyond fun!



The shuttles are really fast and efficient - just ride until you are beat, grab some food - chill out, and keep shuttling, the locals are friendly and are always down to go for another run. Words really donít do justice here, this place it has to be experienced! We will stay in the buzzing city of Bandung and after riding sample some of the excellent local restaurants and bars playing alternative tunes and refuel for another day of shuttle madness!


After 3 days of sending it in Cikole, we make our way back to Bali for a 1 day stay of well deserved rest, chilling out on the beach or doing some shopping.
The next day we catch a flight back to Bangkok where our trip ends.